iText appoints Gary Fry as new Chief Executive Officer
Former Adobe executive to steer iText Group through next stage of growth and beyond
Ghent, Belgium, August 27 2020 - iText Group, a leading international PDF technology company, today announced that seasoned software industry leader Gary Fry has been appointed as the new CEO with immediate effect. The former Managing Director at Adobe Benelux and former CEO at Global Graphics will lead iText through a new chapter of growth. He succeeds Yeonsu Kim, who held the CEO position from 2018 to 2020 and laid the groundwork for the current growth and scaling opportunities of the company.
iText embarked on the search for a new CEO to enhance its value in the business technology market, building on its already highly acclaimed reputation as a leading open-source supplier of PDF libraries. Gary Fry's proven record of taking document technology companies to the next level by accelerating innovation and revenue growth were cited as deciding factors in his appointment.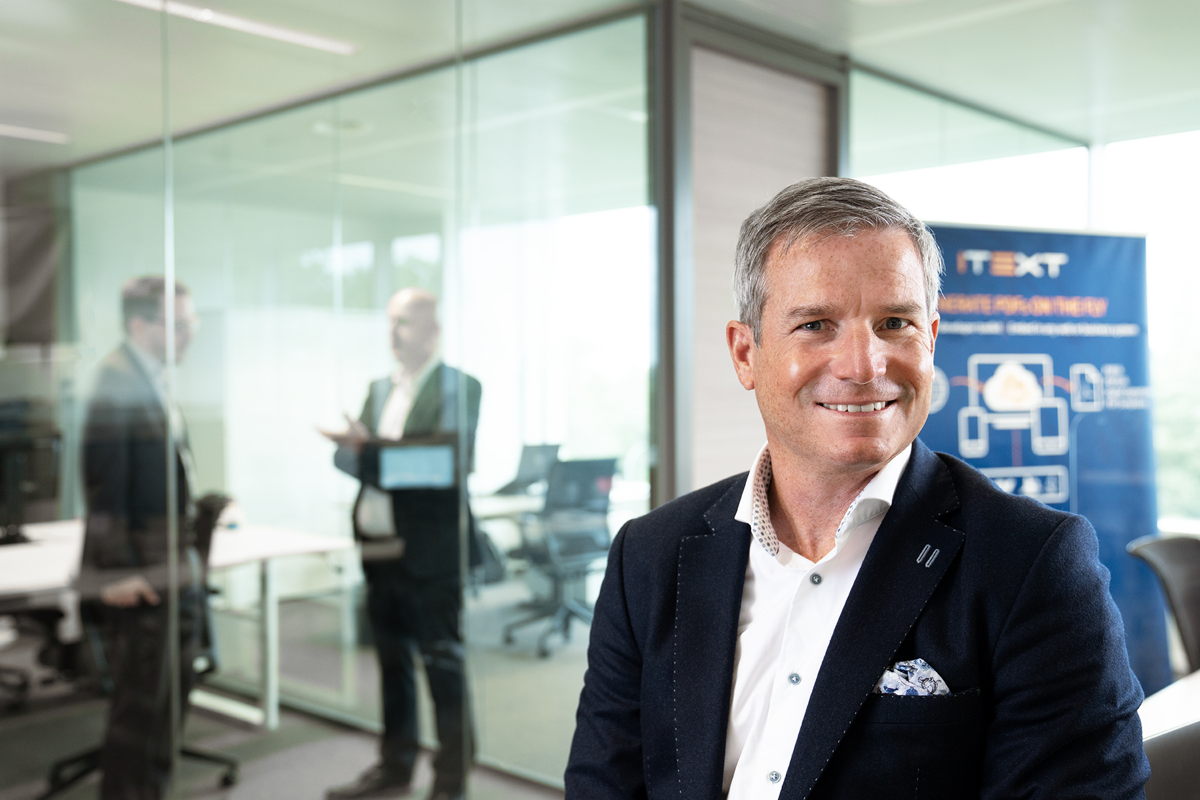 Before joining iText, Gary held several key leadership positions at global software companies including more than a decade as CEO of Global Graphics where he led the company through a significant growth period, both organically and via strategic acquisitions. Prior to Global Graphics, he also held several successful leadership roles at Adobe, from Sales Director UK, to Managing Director Enterprise Europe, to Managing Director for the Benelux region.
"iText is a leading brand in its space, and I am truly honored to lead this extraordinary and talented team. Together, we will capture the next wave of growth for iText by remaining focused on serving our clients and creating significant value for our shareholders." Said Gary Fry. "I'm excited to be at the helm during this pivotal stage of iText's growth. With our new strategy to expand our business value offering, we are on the verge of entering a new phase for the company. The growing need for digital acceleration in light of current circumstances will also help us grow our leading position in the digital communications market.'
SungMin Park, chairman of the iText Board of Directors, said: "After a rigorous and extensive search process, we are pleased to have appointed someone of Gary's calibre, experience and ability. With more than two decades of experience leading high-growth businesses at large technology vendors like Adobe and Global Graphics, Gary has the knowledge, business sense, and leadership skills that will ensure iText thrives."
Gary succeeds Yeonsu Kim, who held the CEO position since 2018. Kim will continue to serve as a member of the iText board.
"On behalf of the Board of Directors, I want to sincerely thank Yeonsu for her focus on building the iText brand, expanding the company's global footprint and leveraging our world-class culture and talent to drive results," continued Sungmin Park. "We thank her for paving the way and creating a great business for Gary and the team to scale further."
"It has been my absolute privilege to serve as CEO for the talented and enthusiastic iText team, setting out the foundation for the future through our diversification strategy. Together we have achieved sustained excellence for our customers while contributing strong growth for the business," said Yeonsu Kim, former iText CEO. "I'm delighted to hand over the reins today to an executive of Gary's experience to continue our efforts and help us achieve the next stage of exponential growth."
About iText
iText is a global leader in innovative PDF software. Its award-winning products are used by millions of users, both open source and commercial. The diverse customer base includes many of the Fortune 500 companies - ranging from technology, financial, travel to healthcare companies, as well as small companies and government agencies. Headquartered in Belgium, iText also has offices in Asia (Singapore and South-Korea) and in the USA (Boston).
About Gary Fry
Chief Executive Officer
Gary Fry, who joined iText in August 2020, brings more than 20 years of extensive leadership expertise in the document technology industry. Gary's role is to set the vision and direction of the company, and drive its business through its next chapter of global growth.
Before joining iText, Gary held a key managerial position at the Media & Communications division of the Volaris Group. As Group Leader, he was appointed to grow Volaris's footprint in the print and publishing industry.
Prior to his position at the Volaris Group, Gary spent more than a decade as CEO of Global Graphics, where he steered the company through a significant growth period achieved both organically as well as through several strategic acquisitions.
Between 2001 and 2008, Gary served several roles at Adobe prior to becoming its Managing Director for the Benelux. He kicked off his career as account manager at IBM and at Oracle.
Gary holds an MBA from the University of Reading, UK.
LinkedIn